Below is a selection of articles on the history and spirituality of the Traditional Latin Mass, by a series of eminent Catholic thinkers, both lay and clerical. If you know of an article that should be included in this list please let us know.
John Burke
Dom Gerard Calvet
Let the War of Rites Cease – address at the 10th anniversary of the Ecclesia Dei Celebrations 1998
Neri Capponi, D.Cn.L., LL.D.
Right Rev. Msgr. John P. Chidwick
Launch of CIEL, U. K.
Rev. Dr. M.P.F Cullinan, M.A., Ph.D., S.T.B
Leo Darroch
Michael Davies
Ecclesia Dei, Rome 1998
Dr. M. J. Ferrari (Canon Lawyer, Ottawa, Canada)
FIUV Position Papers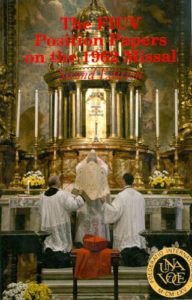 THE FIUV POSITION PAPERS ON THE 1962 MISSAL

These papers are offered to stimulate and inform debate about the 1962 Missal among Catholics 'attached to the ancient Latin liturgical tradition', and others interested in the
liturgical renewal of the Church. The positions taken in these papers are not considered binding on the Una Voce Federation or its members associations; they are simply
presented as useful contributions to the debate. Nor are they to be taken to imply personal or moral criticism of those today or in the past who have adopted practices or
advocated reforms which are subjected to criticism. In composing these papers we adopt the working assumption that our fellow Catholics act in good will, but that nevertheless
a vigorous and well-informed debate is absolutely necessary if those who act in good will are to do so in light of a proper understanding of the issues.
Jackie Freppon
The Veil derived from a book in progress called: "The Unveiled Woman"
Fr. Ignatius Harrison – Provost of Brompton Oratory

Patrick Harvey
Institute of Christ the King
Prof. Peter Kwasniewski
Fr. Arnaud de Lassus
Latin Mass Magazine
Cardinal Mayer
Alfred Marnau
Andrew Meszaros
Fr. John W. Mole
Don Pietro Leone Monselice
The theology of the New Mass: crisis in faith in the Real Presence, Sacramental Priesthood, and the Ends of the Mass
The New Mass and the Church: the underlying theology of the New Rite is Protestant and motivated by Ecumenism
Dr. Robert L. Phillip – Chairman of Una Voce Hartford and Professor of Philosophy at the University of Connecticut.
Joseph Cardinal Ratzinger
Fr. Chad Ripperger, FSSP
Burton Scott
Archbishop Fulton J. Sheen
Fr. Stephen Shield
Edward T. Snyder
Alphonse Cardinal Stickler
Father Timothy Svea – United States District Superior of the Institute of Christ the King Sovereign Priest interview with Michael Matt
Hugh Thwaites, S.J.
Andrea Tornelli
Dr. Eric Vermehren de Saventhem
Alice von Hildebrand
Dietrich von Hildebrand
Thomas E. Woods Jr.