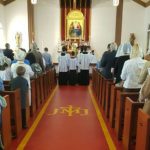 This year's annual general meeting of the Vancouver Traditional Mass Society (Una Voce Canada) will be held on Saturday, November 12, following the offering of the Extraordinary Form of the Mass at 9 a.m. at Holy Family Parish, 4851 Beatrice Street, Vancouver. The meeting will take place in the parish hall.
We are very pleased to have as our guest speaker Dr. Peter Kwasniewski, professor, musician, and prolific author and lecturer. His topic will be "The Words of Our Lady and the Spirit of the Liturgy."
Dr. Kwasniewski holds a B.A. in Liberal Arts from Thomas Aquinas College in California and an M.A. and Ph.D. in Philosophy from The Catholic University of America in Washington, D.C. After teaching at the International Theological Institute in Austria and for the Franciscan University of Steubenville's Austrian Program, he joined the founding team of Wyoming Catholic College in Lander, Wyoming, where he serves as professor and choirmaster. He is a board member and scholar of The Aquinas Institute for the Study of Sacred Doctrine, which is publishing the Opera Omnia of the Angelic Doctor, and a Fellow of the Albertus Magnus Center for Scholastic Studies.
Dr. Kwasniewski has taught and written several hundred articles on Thomistic thought, sacramental and liturgical theology, the history and aesthetics of music, and the social doctrine of the Church. He has published two books with The Catholic University of America Press and a volume of music for liturgical use, Sacred Choral Works (Corpus Christi Watershed, 2014). His latest book, Resurgent in the Midst of Crisis: Sacred Liturgy, the Traditional Latin Mass, and Renewal in the Church (Angelico Press, 2014), is being translated into Italian, Spanish, Portuguese, French, German, Polish, and Czech. Copies of these books will be available for purchase at the meeting.
Prior to Dr. Kwasniewski's talk, a business meeting will be held. We will be voting on minor changes to our bylaws to bring our registered documents into conformity with the new BC Societies Act, as well as for members of the Board of Directors. Only registered members may vote. To renew your membership or to become a member, please click here. The cost of a year's membership, which includes a subscription to our bimonthly newsletter, is $20 for an individual and $25 per family.
A complimentary light lunch will be served following the Mass for all those who will be staying for the meeting. If you plan to attend, please sign up in the vestibule at Holy Family, email bseas31@gmail.com, or phone 604-608-3552.
All are invited!
Meeting poster | Membership form | Interview with Dr. Kwasniewski