At ten o'clock on Friday, May 26, 2017, seven men were ordained to the priesthood for the Priestly Fraternity of St. Peter by His Grace the Most Reverend Terrence Prendergast, SJ, Archbishop of Ottawa, Canada. The seven new priests are Fathers Adrian Debow, James M. Smith, Joseph Favole-Mihm, Caleb Kick, Jonathan Heinricy, Anthony Dorsa, and Matthew Vierno. Fr. Debow hails from Calgary, and, like Frs. Smith, Kick, and Heinricy, spent one of his summer apostolates at Holy Family Parish in Vancouver.
The ordinations took place at North American Martyrs Church in Lincoln, Nebraska, which was filled with family and friends. The conferring of Holy Orders, one of the seven sacraments of Holy Mother Church, and the Solemn Pontifical Mass were celebrated in the Traditional Latin rite as beautifully as they could possibly be through the hands of men guided by the Holy Ghost.
Archbishop Prendergast spoke eloquently of the responsibilities that these new priests would inherit through this sacrament. He encouraged them to place their lives into the hands of the Blessed Mother, and to reinforce their vocation through frequent prayer and visits to the Most Blessed Sacrament.
Following the Mass, there was time to visit with the newly ordained priests in the gardens behind the church. A reception featuring meatless dishes and ample beer and wine was hosted by the priests and seminarians at Our Lady of Guadalupe Seminary.
– Claire Phillips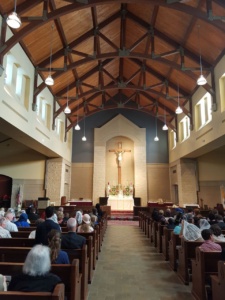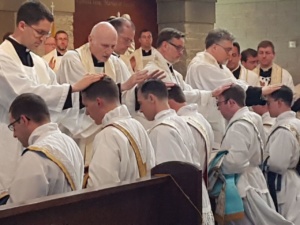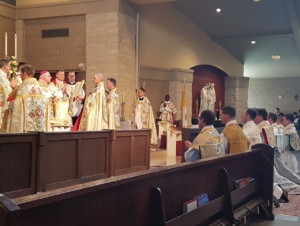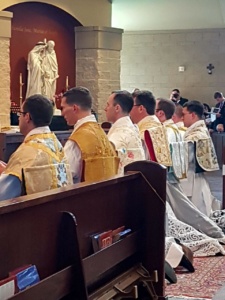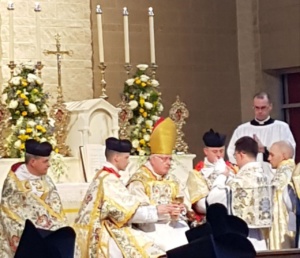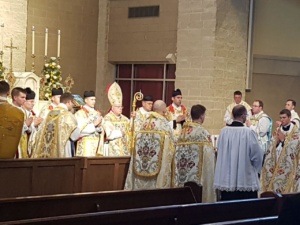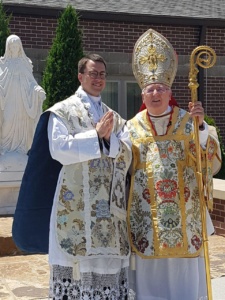 Fr. Debow with Archbishop Prendergast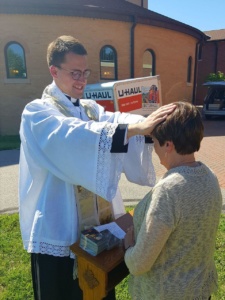 Fr. Debow giving first blessings