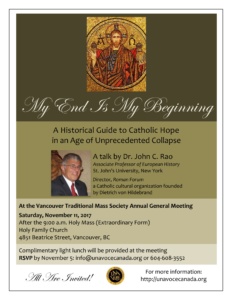 The annual general meeting of Una Voce Canada (Vancouver Traditional Mass Society) will be held on Saturday, November 11, following the 9 a.m. Mass at Holy Family Church, 4851 Beatrice Street, Vancouver, BC. The meeting will take place in the parish hall.
Dr. John Rao, associate professor of European history at St. John's University in New York and director of the Roman Forum, a Catholic cultural organization founded by the late Dietrich von Hildebrand, will be our guest speaker. His topic will be "My End Is My Beginning – A Historical Guide to Catholic Hope in an Age of Unprecedented Collapse."
Only registered members may vote during the meeting. To join or to renew your membership, pick up a form in the foyer of the church, email info@unavocecanada.org, or visit our membership page online. The cost of a year's membership, which includes a subscription to our quarterly newsletter, is $20 for an individual and $25 per family.
A complimentary light lunch will be served following the Mass for all those who will be staying for the meeting. If you plan to attend, please sign up on the sheet in the foyer at Holy Family, email info@unavocecanada.org, or leave a message at 604-608-3552 by November 5.
All are invited!